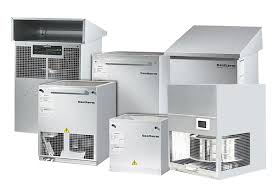 FLEXIBOX - Dantherm
Free Cooling is cost-effective controlled ventilation: the Telecom shelter or enclosure is cooled by means of ambient air without a compressor.
Features and Benefits Dantherm Flexibox 810, 460, 450 and 400 :
Extremely energy-efficient: Savings of up to 90 % compared with traditional cooling solutions.
Total heat management: Control of external air conditioner-units, heater, motorized dampers.
Step less fan speed control with surveillance - low running costs and stable operation.